Grove Students Win the Gold
The Third Annual Battle of the Books was hosted by Holmes Junior High on Wednesday, May 2. The winning teams from each school competed in the District Championship Battle. Team Waddendorp from Grove was victorious and took home the traveling trophy.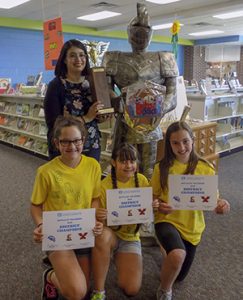 Battle of the Books is a collaborative reading challenge at CCSD59's junior high schools.  The competition gets  students to competitively read for fun and to refine their reading skills.
Student teams read a number of books over several months, and once the students finished them all, the junior highs held separate battles to determine their school's winner. These final teams competed against each other for the district championship.
As in prior years, each team was given a series of questions about the books they've read for the program and were awarded points for correct answers. The teams also had opportunities to steal points when their opponents incorrectly answered. The team with the most points at the end of the competition is declared the winner.
---
Congratulations to all of our teams for a job well done!
Team Waddendorp from Grove
Team Kawaii Klub 2.0  from Holmes
Team No Name from Friendship