FJHS Daily Announcements
Parent 5 Essentials Survey
ATTENTION CURRENT FJHS PARENTS: The 5 Essentials parent survey window is only open until TODAY.  This survey offers the opportunity for parents to give feedback about FJHS.  Please look for the link that was shared via email by Mrs. Megerle. You input is greatly appreciated!  Thank you for taking the time to complete the survey!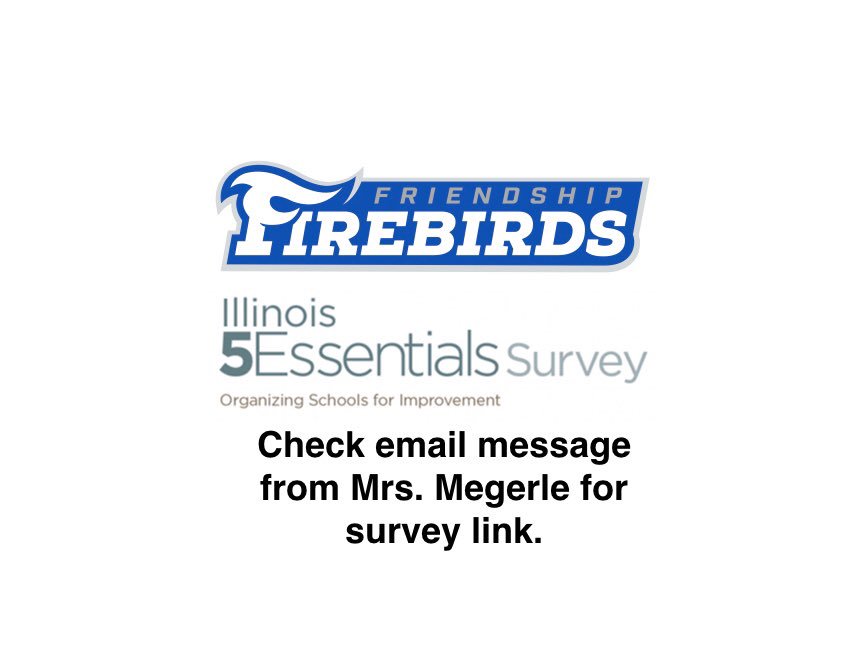 For more information about the Illinois 5Essentials Survey, please visit https://illinois.5-essentials.org.
Second Quarter
Students, do you know that TODAY is the last day of the 2nd quarter! That means you only have a few hours left to get your grades up! Check Skyward TODAY, talk to your teachers, and get any late, missing, and absent work turned in by the end of the day!
FACS CLUB
FACS Club is meeting Tuesday next week after school until 4 pm in room 212B.  Please plan ahead and let parents know if you are attending. See Mrs. Wadman with any questions.
8th Grade end of year field trip
Just a reminder, TODAY is the last day to turn in your Great America forms.  Any student who does not turn in their form and money by the end of the day today will sign a form stating they are choosing not to attend and will not be going on the field trip.  If you need a form, please stop in the office.
FIREBIRD FEED 
Attention all Firebird Feed scavenger hunters!  If you want to win a VR headset or some Beats-like headphones, bring your completed answers forms to 210B by the end of the day on Tuesday.  Make sure your name and homebase teacher is on your form. We will draw the winner next Wednesday!
YEARBOOK
Yearbooks will be on sale only until January 31st.  The cost is $30 and you can purchase one through the office, your Skyward account, or on the Jostens Website.  Please click on the flyer below or the link to Jostens.
EAR BUDS
Hey Friendship students…… do you need ear buds?  Stop in the main office and pick up a pair for $1.
Girls Volleyball
Attention all girls interested in playing volleyball.  We will have one more day of tryouts after school today until 4:45.  Make sure you have your physicals, concussion, and insurance forms complete.  See Mr. Hahn or Mrs. Farwell if you have any questions.
GIRLS BASKETBALL
The 6th grade girls Basketball tryouts will also be finishing up after school today. You must have attended both days of tryouts and have current physical, insurance, and concussion forms filled out with the nurse. See Coach Lee with any questions.
BOYS BASKETBALL
We want to wish good luck to our 7th and 8th grade boys basketball teams as they play in their end of the season tournament tomorrow.
pto
Once again our PTO will be sponsoring a grade level box-top collection contest through Friday February 22nd. Standings per grade level will be announced each week.  The classroom with the most BOX TOPS collected per grade level will have a Muffin and Milk/Juice Breakfast.
There is also another Dine and Share on Tuesday, January 22nd from 5:00-7:00 P.M. at the Chick-fil-A on Elmhurst Road in Mount Prospect.  Friendship and the PTO will earn 10% of all sales.
AFTER SCHOOL ACTIVITIES
6th Girls Basketball Tryouts . . . . . . . . . Small Gym
7/8 Girls Volleyball Tryouts . . . . . . . . . . Big Gym
Have a great day!